1978-80, now, in-between, underneath, forging ahead, falling through
Your responses
"Begining of Voelas street, the 'Top shop' as we called it used to run a kind of bank scheme. I remeber me and my brother, Geoff, saved a sixpence each a month to buy my mum, Alice, a watch for her birthday. It cost half a crown. We got it eventually."
Alan Clegg, lived on Voelas Street, L8, (May 2020)
"Charlie Tickle used to mend our shoes, I can recall the smell of the glue for the soles as soon as you entered the shop. He had a big sticky out moustache and always had a very sharp knife in his hand"
Alan Clegg, lived on Voelas Street, L8, (January 2021)
"This image speaks to a particular form of small-scale protest which was ever-present during my formative years. There's an assumption in the detailed information on the signs that passers-by will be familiar with the nature of the dispute, and that so-called 'local disputes' are, in fact, inherently national by extension; first they'll test it out on us, and if you ignore that you'll be next up, so let's work together. There are many photos of me toddling along at disputes like this; they are completely bound up with my awareness of the city, and my identification with it as my home."
Dr David Hering, Senior Lecturer in English Literature and co-director of the Centre for New and International Writing, University of Liverpool
(November 2020)

"Those houses are more spacious than you would think. At Nan's we were only allowed in the front room on special occasions. Dodgy 1970s lamp, party-line phone, big old silvered, fading mirror, struggling to fit the sheets on the line in the back yard. Laughter, lemonade fizzing up your nose, being corrected when we spoke too Scouse!"
Paula Strudwick, Teacher (November 2020)
"This photograph reminds me so much of being on the 86 bus on my way home after spending the whole day at the docks with my friend Jada, laughing, chatting, singing and dancing! I think it's because this image is from one of the many streets that the 86 goes along."
Amber Akaunu, artist and filmmaker, co-founder of ROOT-ed Zine (October 2020)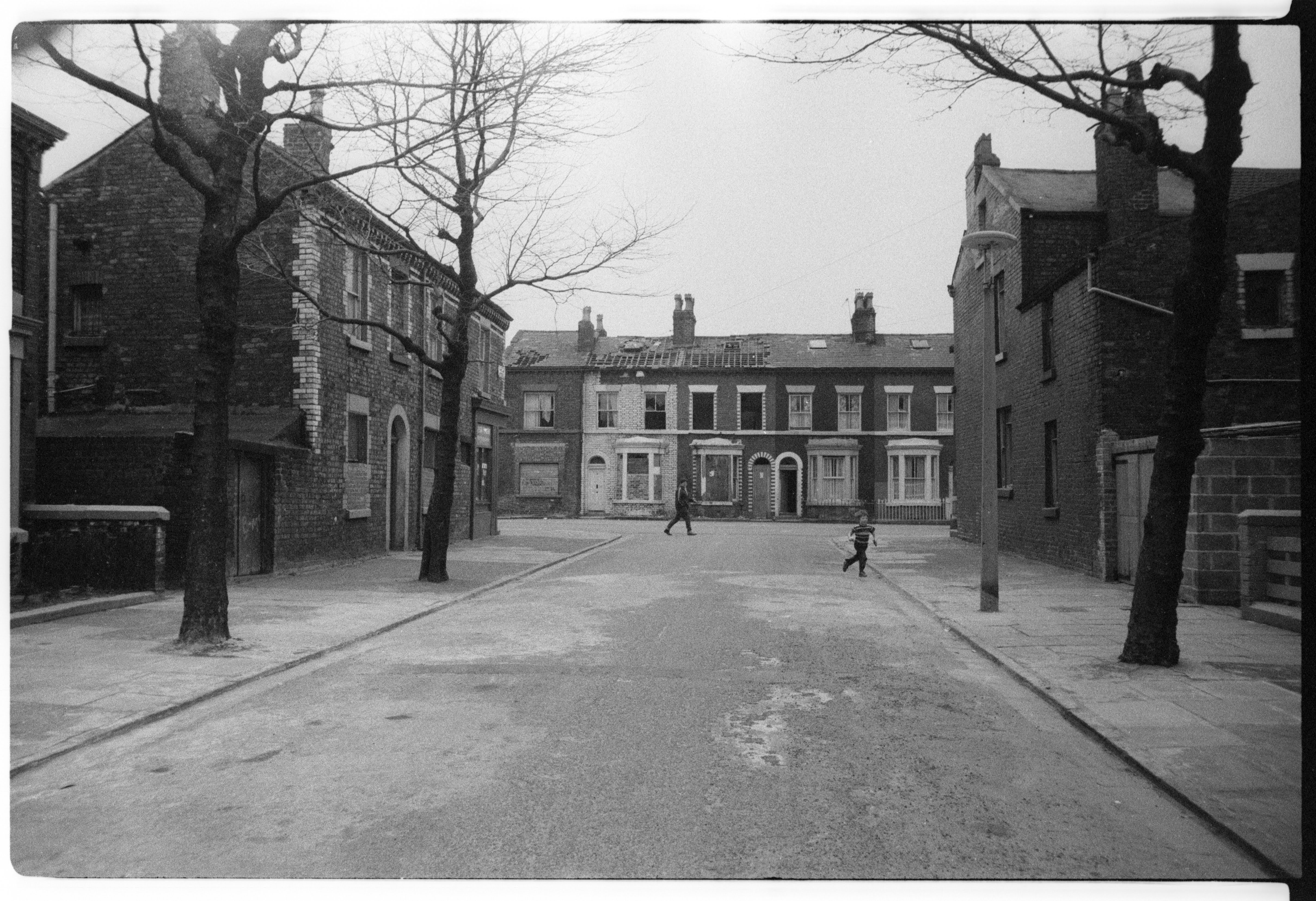 "Lighting a fire was a special event, watching Nan build up the sticks and firelighters, holding a big page of newspaper against the hearth to get it going. I so wanted to do that bit! The smoke and bits of burning paper escaped, rushing up the chimney as the draught took hold. Nan could get impatient, and instead of the newspaper she would throw on a bit of paraffin. That was a bit wild. You had to keep back, and it lit with a loud whoosh as the match was chucked on."
Lynn Clegg, Ian's sister (October 2020)
"Hot dogs: the smell of these was fantastic, the onions, glassy, shiny somehow, the combination of a white spongy bread roll with cooked onions and a hot dog did something to the senses. They smelt and tasted fab. A Saturday treat when in town. They all had these homemade looking trolleys and stencilled lettering."
Lynn Clegg, Ian's sister (October 2020)
"These beautiful pictures evoke so many childhood memories and feelings; going to collect my Grandad from his ship – as a child those monoliths terrified me and still do today; to my Aunty Alice's corner shop where people came more to chat than to buy; to hanging around Probe before a trip to 81a with my best mate from Kirkby, stocking up on baggy shirts."
Madeline Heneghan, co-director at Writing on the Wall (November 2020)
"My earliest recollection of Probe is gathering the courage to ask what was playing in the shop – to my teenage ears, whatever it was sounded amazing. Forcing myself to approach the desk, my reward was a curt shrug and a 'dunno'. It was crushing but, clichéd as it was, amusing too. A coda to this story is that years later, working my way through Guided By Voices' back catalogue, a visit to the shop not only included approval of my choice, but a recommendation for next time. I suppose I'd paid my dues."
Mike Pinnington, writer and editor, co-founder of The Double Negative magazine (October 2020)
"This was before that area was done up. I remember going to the Albert Dock with my Auntie Eileen who wanted to photograph the derelict site (she was an art teacher). It was fascinating, having a strange, faded grace. I wonder what she thought when it was redeveloped."
Paula Strudwick, Teacher (November 2020)
"As well as being down town, I remember often seeing him at the match on a Saturday; I guess he will have been at both Anfield and Goodison."
Paula Strudwick, Teacher
(November 2020)
---
T

ell It Like It Is: images by Ian Clegg and words by Laura Robertson.
Project funded, supported and championed by Open Eye Gallery, Liverpool, with huge thanks.